h2yoga hybrid classes
These classes are designed to continue to challenge our on-going students.
If you're new to our practice, we strongly recommend taking at least one of our flow style classes to get the basics down first.
You'll have more fun, feel more successful, and  be able to get a genuine feel for the hybrid-class style. 
H2yOga Detox Power Lunch
Combines the best of our detox and cardio classes for a core twisting, ab toning, calorie burning, mid-day power boost!  
CLASS STYLE: CARDIO + TWISTING CLASS  
Essential Core
A cross-section of the majority of our class styles. "Essential Core" provides the building blocks for the H2yOga work beyond "Flows Afloat." Improve core-stability and strength while learning the essential principles and flows from our Cardio, Toning, Twisting and Balance classes. Take your practice to the next level! 
CLASS STYLE: MIX OF CLASS STYLES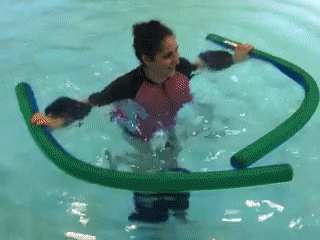 Warrior Core
A high-powered, INTENSE mish-mash of all our class styles! If you like our Bikini Body Blast, Buoyant Bottoms and Detox, you will love this super-fast, toning, firming, detoxing, calorie-burning fiesta!!! 
This class features Powerful Core Work, the H2yOga Hundred and Toning with a Ball! Burn LOTS of calories, tone up and have a blast doing it! 
Interested in "Warrior Core" but still relatively new to our practice? Try "Essential Core" instead! In "Essential Core," learn our "Warrior Core" series and flows in an intermediate-level setting! 

CLASS STYLE: CARDIO + TWISTING CLASS